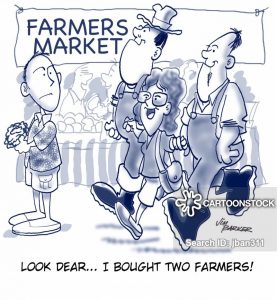 We've always felt that our market's location — in Pretzel Park which includes a playground and dog run — has contributed to making the market kid-friendly, pet-friendly, and family-friendly.
We're also convenient to public transportation: SEPTA Routes: 35, 61, Manayunk-Norristown Regional Rail (Manayunk Line) Map here
Farmers Market Vendors Page (for details)
Join the Email List
See detailed vendor information under 2019 Farmers Market/Vendor List at http://www.friendsofpretzelpark.org
FARMERS and FOOD
Walnut Run Farm
Cash, Credit Cards
Come early to make sure you can purchase strawberries!
Melvin will be bringing pork, including but not limited to spare ribs, bacon, chipped ham, and a number of different sausages which are all nitrate free cured meats — No MSG seasonings — and 100% grass-fed beef, such as a variety of steaks, ground beef, burger patties ready for grilling, and beef sticks and bologna. He also will be bringing eggs, chicken (whole chicken, bone-in and boneless breasts, and drumsticks), produce (salad greens, lettuce, kale, spinach, rhubarb, asparagus, tomatoes from their neighbor's greenhouse, radishes, and onions) and strawberries. In addition, Melvin will have Alpine Heritage Creamery's cheese made from raw grass-fed milk, aged a minimum of 60 days (Sharp, Smoked, and Medium Cheddar; Herbal Jack, and Swiss and Yogurt Cheese), kombucha, and baked goods (Einhorn bread, sweet bread, muffins, cookies, whoopie pies and donut holes).
Everwild Farm
Cash, Credit Cards, Apple Pay, PayPal
Tim will be bringing mesclun salad mix, cherry tomatoes, beets, lettuce heads, micro-greens, baby carrots, kale, swiss chard, broccolini, kohlrabi, fennel, garlic scapes, flowers and herbs. Also, pepper and eggplant starters.
Fernbrook Farms CSA
Cash, Credit Cards
Jeff will be bringing Lettuce, Kale, Collards, Turnips, Napa (Chinese) Cabbage, Kohlrabi, Stir-Fry Mix, Plant starts for Gardens, Pea Shoots and Honey!
Mushroom and Company is unable to attend this week. Between Bill's wife having surgery and Sandrine's daughter graduating, there was no staff available. They apologize for any inconvenience and look forward to being back next week.
New-Bee Ranch
Cash, Credit Cards (above $10)
Rachel will be bringing local raw honey, beeswax wraps, and beeswax body products, along with seasonal jams, pickles, fresh ferments, and fresh multi-color eggs.
Slow Rise Baking Company
Cash only
Slow Rise breads and baked goods will be available at the Friends of Pretzel Park table. The following will be available: baguette, sprouted wheat, sunflower flax, sourdough, Miche, maple oat and spelt. Also, 4-seed cookies, peanut butter cookies, honey crisp and lavosh.
Amira's Delites
Cash, Credit Cards
Amira will be bringing all natural vegan and traditional cookies (chocolate chip, chocolate chip w/walnuts, lemon thyme, citrus sugar, sugar, cinnamon sugar and oatmeal raisin) and cupcakes (chocolate, vanilla, and black and white).
Charmaine's Cookie Jar
Cash, Credit Cards ($5 & over)
Charmaine will be bringing cookies (orangesicle, chocolate chip, triple chocolate, butter pecan, pistachio Cherry and peanut butter), and bars (Breakfast cereal and lemon).
****
CRAFTERS and Others
Black Cat Clothiers
Cash, Credit Cards
Victoria will be bringing a curated, bewitching selection of high-quality antique & vintage garments and accessories for the discerning woman who values the stories and magic of vintage clothing.
Butterfly Farm Pet Treats
Cash, Credit Cards
Gail Weber's partner, Pat, will be bringing baked natural treats for dogs. All treats are made from human-grade ingredients, without chemicals or preservatives, and sold in at least 7 flavors and 3 sizes. They are sold in open containers by weight so customers can pick and choose what they want (like a salad bar). Special packs are gluten free. By July there will be catnip toys with non-chemically grown catnip and six foot leather leashes made from Amish harness leather.
Crochet Gyrl
Cash, Credit Cards
Jaclyn Campbell will be bringing handmade crochet items — lots of different character hats for all ages (Minions, unicorns, frog, horse, storm trooper, hello kitty, snowman, Mickey, Minnie, and bubble bees just to name a few), and sweaters for your dog. Special orders available.
Embroidery by Peyton
Cash, Credit Cards, Venmo, PayPal
Peyton will be bringing handmade and custom embroideries, macrame and woven wall hangings, and even embroidered jewelry.
Pawsitive Reinforcement Pet Care and Training
Cash, Check, Venmo
Heather of Pawsitive Reinforcement will provide information about their training philosophy – they focus on the positives, creating a fun environment in which animals of all species want to train without fear of punishment, dominance, or force. They also apply those same tactics to pet-sitting, ensuring your pet is treated like family when you're away! In addition, all pet owners can have prints taken from their pet's paw to take home to display.
Philadelphia Barking Authority
Cash, Credit Cards
Chuck will be providing information about their cat/small animal visits, pet sitting, and dog walking services in the neighborhood. Gift certificates available.
ShayBeads
Cash, Credit Cards
Shana (Shay) will be bringing handcrafted signature expandable beaded bangles, dainty earrings, chain link bracelets/anklets, and hand stamped necklaces. Also, organic facial skincare products.