Farmers Market Page
Farmers Market Vendors Page (for details)
Join the Email List
---
Lancaster Organic Growers (remember to pre-order milk!)
Kennett Square Specialties (cash only) — Mushrooms Mushrooms Mushrooms

Slow Rise Bakery (cash only) — Bread, cookies and other baked goods.
Liberty Plants — Herbs, Bouquets and Bunches
Philly Blind Pig BBQ — Worlds Best BBQ!
The Chilly Banana — Worlds Coldest Bananas!
---
Stick around for Hot Club of Philadelphia at 6 PM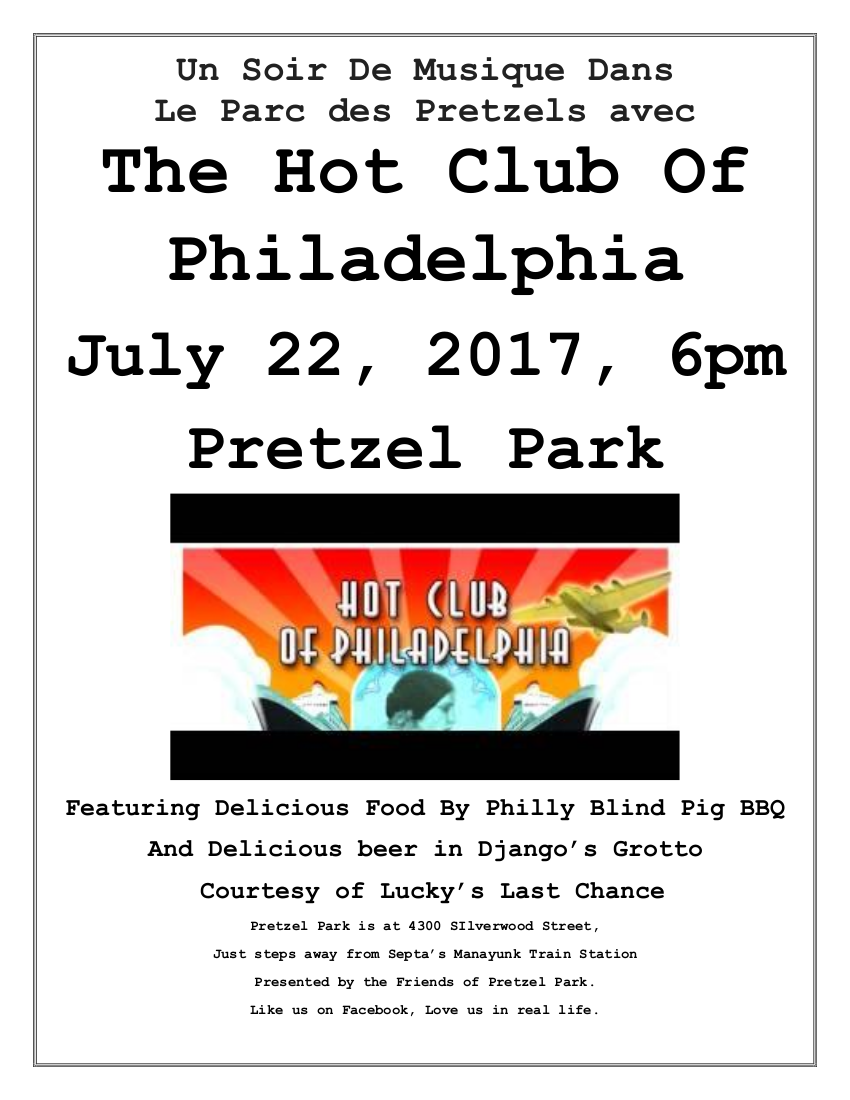 ---
Lancaster Organic Growers
This week Justin is bringing the following:
Vegetables: Organic: Beets, Green Beans, Broccoli, Cabbage, Cauliflower, Carrots, Chard, Cilantro, Collards, Cucumber, Dandelion,  Kale, Lettuce,  Onions, Parsley, Potatoes, Radicchio, Radishes, Rhubarb, Baby Spinach, Spring Mix, Sweet Potatoes, Tomatoes (cherry, red/yellow/pink, heirloom), Zucchini, Herbs (Basil, Mint or Chives), and Popcorn
Fruit: From Northern Lancaster County, Brecknock Orchards (low spray) Apples, Blueberries, Cherries, and Raspberries.  Also, Oyler Organic Farm applesauce (South-Central PA, close to Gettysburg).
Dairy: Organic Cheese; Organic Yogurt (plain, vanilla or maple flavored); Butter; You must pre-order Organic Raw Milk by Wednesday for pickup on Saturday.
Other: Eggs (pastured, GMO free and soy free); Local Raw Honey; and Brenneman's maple syrup (dark rich color and taste) from Salisbury, PA.
Also at Justin's stand: Now sampling Old World Soups from Anna Karenna's Kitchen.  Marrying heritage recipes with local ingredients.  Frozen — Russian Red Borsch (Lone Star Farm pastured beef); Split Pea & Bacon (Center Hill Farm Heritage Pork); and Siberian Chicken Noodle (Fresh Market Organic white meat).
Kennett Square Specialties

This week Kennett Square Specialties will be bringing the following mushrooms: Portobello, Crimini, Shiitake, Maitake, King Oyster, Pioppino, Pom Pom (Lion's Mane), Gray Oyster, and Yellow Oyster mushrooms. They also will have mushroom teas featuring Reishi and Cordyceps mushrooms. These organic teas will be available in Herbal Berry, Mint Spice, Tulsi Ginger Lemon, and Green Chai Spice.  In addition, they will have dried porcini available.
Slow Rise Bakery (at the Friends of Pretzel Park Table)
The following Slow Rise breads and baked goods will be available at the Friends of Pretzel Park table:
Bread: 100% whole wheat, sprouted wheat, 7 grain, multigrain, sourdough, Miche, black pepper/fennel, and baguette.
Baked Goods: Four seed cookies, honey crisps, chocolate crumb cookies, and peanut butter flourless cookies.
Liberty Plants

This week Alyssa is bringing bouquets and bunches, as well as an assortment of herbs.
Philly Blind Pig BBQ


Tom Bera — Pitmaster
www.phillyblindpig.com
Tom Bera, a proud Philadelphia native, has been pursuing his passion for BBQ since 2005. This addiction flourished as he entered the pro BBQ Circuit in 2006. His "Philly Style BBQ" has won numerous awards, capturing his first Grand Championship at the 2013 Smoke in the Valley competition in Green Lane, Pennsylvania.
His love of creating new and exciting BBQ is evident in the interviews and documentaries in which he is featured including FYI Philly and the nationally-released BBQ documentary "American Smoke". Philly Blind Pig BBQ has been invited to compete in some of BBQ's most prestigious events, such as The World Food Championships in Las Vegas.

The Chilly Banana
They're back! This week they will have banana whips and other tasty fruit-based treats
---
(PPFMv5.10)