Manayunk Theater Company presents Shakespeare's Love's Labour's Lost, in Pretzel Park, Saturday evening at 7pm June 25, 2016
Manayunk Theatre Company is proud to present a free staged reading of Love's Labour's Lost. Presented with the help of the Friends of Pretzel Park, this preformance will follow the Manayunk Arts Festival. We are excited to bring Shakespeare to life for a one night only celebrati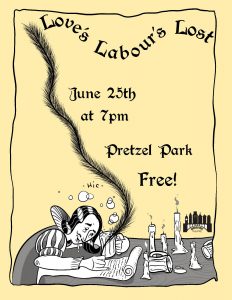 on of life, art, and drinking lovers. Guest Artist Meredith LaBoon directs with MTC for the third time.
Join us for the conclusion of the Manayunk Arts Festival on June 25th @ 7pm. BYO picnics, drinks and chairs are encouraged for your enjoyment.
All donations go to support Manayunk Theatre Company's 2016 Fringe Show "Bedlam: Women in Shakespeare" written by Amanda Coffin and Gabriel Henninger.