AT THE MARKET THIS WEEK
(so far)
Crawford Organic Farm
Tim Bellew Food
Fifth of a Farm
Caitlin Foley of Chocolate Spaniel Pottery
Just Krafts Co.
Blind Pig BBQ
John Speaker / Artist
Wissahickon Creek Veterinary Clinic
Kat Cares
The Animedic
Lucky's Last Chance
Greenberg's Bakery (weekly, at the Friends of Pretzel Park table)
Crawford Organics Farm
East Earl, PA
www.crawfordorganics.com
Cool weather greens abound which, naturally, makes you think of pumpkin pie, squash soup, sweet potatoes, apple cider, and apples in your fresh salad.
PUMPKIN PIE!

The farm has been growing organic produce since 1998.  Since 2002 they have partnered with Paradise Organics, and between the two farms, offer a full line of fresh organic vegetables to wholesale markets.  In 2008 and 2009, they attended a farmer's market in Philadelphia.  They merged with Wimer's Organics CSA in 2016.
Among their crops this week are:  Green Beans, Beets, Baby Bok Choy, Broccoli, Cabbage, Carrots, Celery, Celery Root, Chard, Cilantro, Collards, Dandelion, Eggplant, Herbs, Kale, Leeks, Lettuce, Onions (White, Red or Sweet Yellow), Parsley, Sweet Bell Peppers (Green or Red), Jalapeno Peppers limited, Potatoes, Radishes (black or watermelon), Rhubarb, Salad Mix, Sweet Potatoes (Garnets, Jewell, Japanese, White Hayman), Shallots, Scallions, Spinach, Tomatoes (Cherry, Heirloom or reg. Red), Winter Squash (some or all of: Butternut, Carnival, Kabocha Type, Pie Pumpkin [for cooking], Spaghetti), and Turnips.  In addition, they have Heirloom Dried Beans and Popcorn.
New Kale Chips made with our kale by Awesome Foods.  Also, fresh Apple Cider is here!!!!  Shop early for best selection.
In addition to what they grow in East Earl (Lancaster County), they sell other Lancaster County farms' fresh fruit, low spray Apples (Courtland, Gala, Honeycrisp, Macintosh, Smokehouse, Winter Banana, Red Delicious. . .).
They also have available Soy Free, GMO-Free raised on grass pasture Brown Eggs, organic raw Cheese (eight varieties), Yogurt (plain or flavored), Organic Butter (salted or unsalted), and organic grass-fed Raw Milk as well as Local Raw Honey and PA Maple Syrup.
Now accepting credit cards, asking $20 minimum purchase.  Cash preferred.  Also accepting FMNP checks from eligible Seniors and Women, Infants & Children (WIC) to purchase fresh fruits and vegetables.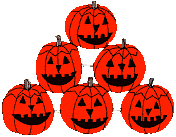 Tim Bellew Food
Philadelphia, PA
www.timbellewfood.com
Tim Bellew is a caterer, a cook, and a consultant in the food industry.
This week Tim will be offering turkey sloppy joes, potato/leek/kale/feta hand pies, herb iced teas and Gus's low-sugar sodas.  He also will have granola, coffee, fresh fruit scones, cupcakes (black bottom-g/f; carrot), cookies, and brownies (g/f).
Stephanie was the pastry chef at Friday, Saturday and Sunday for 13 years and the chef/owner of Sweetie's Pie Diner.
Just in time for Halloween – Monster cupcakes!  Look for Aztec Chocolate Chunk & Pumpkin Seed cookies, new fall tarts including Pumpkin Grand Marnier, Pecan Bourbon, and Apple Cranberry.  Back again are Millet Muffins, Pumpkin Ginger Cakes, Jewish Apple Cakes, and Chocolate Orange Pound Cakes.  As always, look for a full supply of Nana's oatmeal and chocolate cookies, biscotti, and flatbreads.
Everything is made with mostly organic ingredients.
Fifth of a Farm Creations
Philadelphia, PA
www.fifthofafarm.com
Fifth of a Farm Creations is a family owned and operated business located in Philadelphia, PA.  All of their jams and jellies are hand crafted in small batches using all natural ingredients.
Their products include:  Blue Bell Hill Berry Jam, Harrogate Peach Jam, Parkside Prickly Pear Jelly, Rittenhousetown Red Pepper Jelly, Port Richmond Grape Jelly, Strawberry Mansion Jam, Haddington Raspberry Jam, Trenton Avenue Mint Jelly, Fairmount Cherry Jam, Germantown Grapefruit Marmalade, and Walnut Hill Orange Marmalade.
Their products made with Agave are:  North 33rd St Strawberry Jam, Walnut Lane Blueberry Jam, and East Russell St Peach Jam.
Their seasonal products available now are:  Francisville Fig Jam, Byberry-Somerton Rhubarb Jam, Logan Lime Marmalade, Bella Vista Apple Butter, and Swampoodle Cran-Apple Chutney.
They also offer the following gift baskets:  Baker Bowl-ful of Jelly—one jar of jam or jelly in an attractive cereal bowl; Manayunk Mug-ful of Jelly—one jar of jam or jelly in an attractive mug; Woodside Park Gift Basket—includes 2 jams/jellies, peanut butter, gourmet crackers, and a stuffed animal; Schuylkill Expressway Jam Basket—2 jars of jam or jelly, and an assortment of gourmet food products in a beautiful basket wrapped in ribbon; Roosevelt Blvd Jam Basket—3 jars of jam or jelly, and an assortment of gourmet food products in a beautiful basket wrapped in ribbon; and Franklin Square Box—3 mini jams (2 oz) in a clear square box tied with a festive bow.
Chocolate Spaniel Pottery
Philadelphia, PA
Chocolate Spaniel Pottery was established by Caitlin Foley in 2016 and appropriately named after the artist's beloved dog. Caitlin is a Roxborough based potter whose style reflects a sense of whimsical elements but focuses on functionality.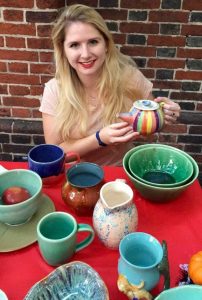 This week Caitlin will have available bowls, mugs, teapots, and more.
Just Krafts Co.
Philadelphia, PA
https://www.facebook.com/justkraftsco/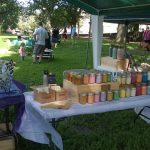 Just Krafts Co. will be making its fifth appearance at the market this Saturday. In addition to classic scents they will have fall soy candle scents (including pumpkin hot chocolate, snickerdoodle, vetiver) linen sprays, natural goat's milk soaps and coconut milk soaps.  They also will have transit token jewelry and other crafts.
Blind Pig BBQ
http://www.blindpigbbq.net/
It all started for Tom Bera in August 2005 with a phone call from his friend Steve from the Philadelphia Sports Hall of Fame. He asked Tom to help cook ribs at a competition charity event run by Garry Maddox at Citizen's Bank Park – Tom agreed. This was the first time Tom ever cooked "real" BBQ. Steve and Tom used two $30 Brinkman smokers and finished in the top 5!  They upgraded their equipment to a couple of Weber Smoky Mountains and a Big Green Egg smoker, then planned their KCBS debut in 2006.
 Their first competition was at "BBQ on the Farm" in Bristol, PA. They finished 8th in ribs and dead last in brisket and had a great time. They also gained a new member to the team, Jack Rhubright, who Tom still cooks with today. Mid-way through their 2006 season Jack and Tom officially changed their team name to Philly Blind Pig BBQ.
 The origin of the name "Blind Pig" stems from the prohibition days in Chicago. A "Blind Pig" was an establishment that illegally provided alcoholic beverages. The saloonkeeper would charge customers to see an attraction (such as an animal), and provide a "complimentary" alcoholic beverage, thus circumventing the law.
John Speaker / Artist
http://www.johnspeaker.com/
Creating artwork is a practice through which one offers their entire being to the mystery of creativity.  When the brush hits the canvas, it's as if time stops and the artist is invited to sway harmoniously with the universe.  Each brush stoke is layered upon the next to create an object that reminds us of our true boundless nature.
My mission is to continually open to the secrets of life with a brush in-hand. I hope to create art that wakes the viewer to unexpected states of beautiful awareness. My mission is to continually open to the secrets of life with a brush in-hand.  Email John at visionsbyjohn@gmail.com
Wissahickon Creek Veterinary Clinic
http://wcvh.org/
Wissahickon Creek Veterinary Hospital is a full service animal hospital, welcoming both emergency treatment cases as well as pet patients in need of routine medical, surgical, and dental care. In addition to her overwhelming love for animals, Dr. Dana Yard has many years of experience treating serious conditions as well as offering regular pet wellness care at some of the area's top veterinary clinics and hospitals. In addition to providing high-quality service, we maintain a comfortable, pet and kid-friendly clinic that is always kept calm and tidy, allowing your pet to relax in the waiting room and enjoy their visit with our loving staff.  You can reach WCVH at 215-483-9896 or at info@wcvh.org.

Kat Cares

Kat Lambert is a dependable, local, experienced dog-walker/pet-sitter.  A pet owner since 1997, she understands the love and need of protecting your furry "kids."  She is able to provide companionship, exercise and much more.  She also understands the day-to-day scheduling constraints of working pet owners and the challenges that they present.  As a former customer, she knows how vital it is to not only find someone who is trustworthy and dependable, but who will also love and care for your pet.  Rates starting at $10.  You can reach Kat at 267-879-5896.
The Animedic
Animedic Veterinary Clinic is a full service animal hospital and welcomes both emergency treatment cases as well as pet patients in need of routine medical, surgical, and dental care. Dr. Jennifer Jones has years of experience treating serious conditions and offering regular pet wellness care. Beyond first rate pet care, we make our clinic comfortable, kid-friendly, and calm, so your pet can relax in the waiting room and look forward to meeting our Philadelphia veterinarian.  You can reach Animedic at 267-297-7950.
Greenberg's Bakery (weekly, at the Friends of Pretzel Park table)
Oreland, PA
http://www.greenbergsbakery.com
Greenberg's Bakery began more than 90 years ago as a Philadelphia family-owned bakery. Currently in Oreland, PA, the bakery continues to carry on the tradition of using the family's old, delicious recipes and techniques.This week there will be the following breads: challah, French Sourdough, Marble, Multigrain, Pumpernickel, Rye, Bagels (limited quantity) whole wheat, everything, plain
Lucky's Last Chance
Philadelphia, PA
In 2011 Chris Barnes opened Lucky's Last Chance at 4421 Main Street in Manayunk.  He serves the most interesting burgers and hot dogs as well as craft beers, vintage inspired cocktails and premium wines by the glass.