CONDIMENTS! BREAD! BAKED GOODS! KNIFE AND TOOL SHARPENING! PUMPKIN THROWING!?! Don't forget our Turkey Day Market 11/19!

LOVE YOUR PARK DAY!!
Join your neighbors in beautifying Pretzel Park beginning at 9:00 am! Equipment and snacks provided. If you haven't registered online, come anyway.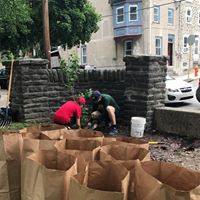 We've always felt that our market's location — in Pretzel Park which includes a playground and dog run — has contributed to making the market kid-friendly, pet-friendly, and family-friendly.
We're also convenient to public transportation: SEPTA Routes: 35, 61, Manayunk-Norristown Regional Rail (Manayunk Line) Map here
1. Offbeat Gourmet
2. Slow Rise Bakery
3. Howe Sharp
Farmers Market Vendors Page (for details)
Join the Email List
Offbeat Gourmet
New Hope (Bucks County), PA
www.offbeatgourmet.com
Credit cards accepted
Roberta will be bringing 100% all natural condiments that are gluten free and non GMO. Among them, she will have fresh local micro-planed horseradish that comes from a local Bucks County farm. The highlight: Seasonal Apple products: Crab Apple Jam and Honey Crisp Apple Ginger.
Offbeat Gourmet condiments include: bbq style grilling sauces, rubs, fermented and aged hot sauces, savory spreads, mustard, marmalade and premium preserves.

Slow Rise Bakery
Lancaster, PA
http://www.slowrisebakery.com
Cash only
Brian Hernon's bread will be at the Friends of Pretzel Park table —
Bread Sale!!
— previously frozen bread on sale for $4 per loaf — 7-grain, whole wheat, multigrain, sunflower flax, sourdough, and Miche.
Baked goods available: 4-seed cookies, peanut butter cookies, chocolate crumb cookies, honey crisp and granola.
Howe Sharp
Perkasie, PA
www.howesharp.com
Credit cards accepted
Jesse Howe is the owner of Howe Sharp, a mobile knife and tool sharpening business. Some of the items he sharpens are: kitchen knives, pocket knives, scissors, shears, and garden tools, including shovels, axes, and lawn mower blades.

* * * * * *
Don't forget our
Turkey Day Market
Venice Island Performing Arts and Recreation Center
Monday, November 19th, 4:30-7:30pm