Farmers Market Page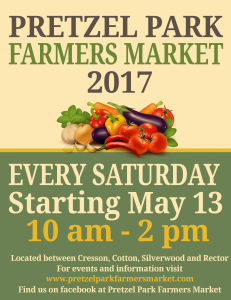 Farmers Market Vendors Page (for details)
Join the Email List
---
 Lancaster Organic Growers
Kennett Square Specialties
Liberty Plants
Neils Sharpening Service
Offbeat Gourmet
Tilted Haggis Soap Company
---
It's also Love Your Park day. Come on out and help us beautify the park!
---
 Lancaster Organic Growers (weekly)

This year Farmer Justin Snyder is representing Lancaster Organic Growers located in Lancaster County, PA.  He will be selling a wide variety of organic produce from Crawford Organics (same farm as last year) as well as fruit, eggs, cheese, raw milk (per-ordered), honey, apple cider (fall), PA maple syrup and flowers.

Kennett Square Specialties (weekly) (cash only)

Kennett Square, PA
www.ksssales.com
Kennett Square Specialties is located in the heart of Kennett Square, The Mushroom Capitol of the World. They will have Portobello, Crimini, Shiitake, Maitake, King Oyster, Pioppino, Pom Pom (Lion's Mane), Gray Oyster, and Yellow Oyster mushrooms. They also may get some wild mushrooms from time to time including Morels and Chanterelles.

Liberty Plants (bi-weekly)

Philadelphia (Roxborough), PA
www.libertyplants.com
Alyssa and Greg Van Alstine run a small, family-owned business located in the Roxborough section of Philadelphia. They believe that all residents of Philadelphia should have the opportunity to grow their own edibles, regardless of outdoor restrictions. As avid vegetable gardeners, they offer their knowledge and experience to help you choose the best edible varieties for your unique situation.They grow the following unique heirloom plants: tomatoes, peppers, eggplants, cucumbers, squash/zucchini, greens, herbs, and flowers. They also have hanging baskets.

Neil's Sharpening Service (credit cards accepted)

Ambler, PA
www.neilssharpeningservice.com
Neil's Sharpening Service is a mobile sharpening service for knives, scissors, shears, push movers, etc. In addition, Neil makes keys, handmade pens and pencils, wooden toys, vinyl signs, yard signs, magnets and stickers. He also does custom engraving and temporary tattoos.

Tilted Haggis Soap Company (credit cards accepted)

Hatboro, PA
www.tiltedhaggissoap.com
Tilted Haggis Soap Company makes all natural, all vegetable, very good handmade soap as well as lotions, massage oils, bug repellent, scrubs, bath bombs and room sprays.

Offbeat Gourmet LLC (credit cards accepted)

Buckingham, PA
www.offbeatgourmet.com
Offbeat Gourmet LLC is a small, family business located in Buckingham, Bucks County, PA, created by Scott Duncan and business partner, Allison Wright. Their mission is to create gourmet premium condiments that are made with only the best locally sourced, 100% fresh ingredients. Scott takes pride in the purity of Offbeat Gourmet's condiments, striving for as much organic produce as possible for each jar. All products produced contain absolutely no artificial preservatives, artificial flavors or coloring, corn or high fructose corn syrup and are 100% gluten free.
Offbeat Gourmet is an active member within the local community. Allison and Scott support only local farms for ingredients, mom & pop gourmet stores for retail locations, and in promoting local community events.
---
(PPFMv5.1)