Patrice and The Show
Courtesy of the Friends of Pretzel Park
Saturday, September 16th
6:00-8:00pm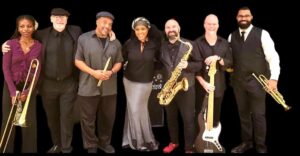 In the forefront is the vocal marvel Patrice Hawthorne. She'll hypnotize you with her sultry sounds and leave you begging for more. A voice with the emotional depth of Billie Holiday and the power of Dinah Washington, her skills are unparalleled. She is well known for her role of "Peaches" of the soul duo Peaches and Herb whose hit songs; "Shake Your Groove Thing" and "Reunited" soared to the top of the charts! With this duo Patrice toured the world for twelve years delivering stellar performances. She has graced the stages of many other well-known artists and has performed for various political dignitaries including the 42nd President of the United States, Bill Clinton.


Together with her superb accompanists, the party is simply unstoppable. With the individual talents and combined experiences of Patrice & The Show, they have performed and recorded with magnificent artists such as, Stevie Wonder, Michael Bublé, Celine Dion, The Beach Boys, Brian McKnight, Patti Labelle, Billy Paul, Phyllis Hyman and a host of other artists. Their exceptional talent is evident in their unfailing show-stopping performances. The crew includes an array of outstanding musicians as well as three versatile and gifted vocalists.