PRETZEL PARK FARMERS MARKET
Saturday, OCTOBER 23rd
10:00am – 2:00pm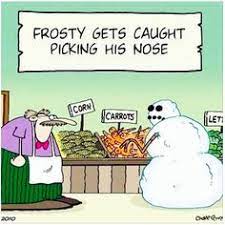 Disclaimer: The above cartoon in no way reflects the opinion of Friends of Pretzel Park on the subject of nose picking for snow people, children or dogs. Cats as we know will do whatever the heck they want. Thank you.
IF you are NOT vaccinated, you are required to wear a face covering at the market. If you are vaccinated, it is recommended that you wear a mask, but not required. STAY HOME if you feel sick or have been sick within the last 14 days.
As always, we encourage our customers to wash fruits and vegetables before use. If you prefer, many vendors are accepting pre-orders for market pickup … Read the rest