PRETZEL PARK FARMERS MARKET
Saturday, AUGUST 19th
10:00am – 2:00pm
Rain or Shine
! MUSIC AT THE MARKET !
11:00am-1:00pm:  Miss Nay and Mr. Maas = Sharon and Cris Pastore. 
They are an original and cover acoustic band who played at the market last year.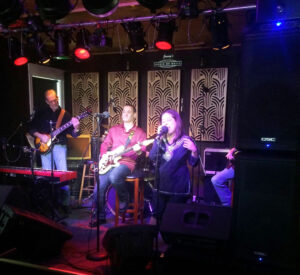 Please STAY HOME if you have tested positive for Covid-19 or if you feel sick or have been sick within the last 14 days.
If you prefer, many vendors are accepting pre-orders for market pickup — allowing you to get in and out quickly so you can enjoy the rest of your day. How To Place An Order: use the link below the vendor's name if you are pre-ordering and note pre-order deadlines (pre-ordering is encouraged where available). **If someone else is picking up your orders, please let the vendors know the pickup person's full name. As always, we encourage our customers to wash fruits and vegetables before use.
*Walnut Run Farm
Credit cards [$10 minimum]; Cash
Melvin will be bringing: Veggies (spinach, lettuce, salad mix, kale, tomatoes [slicing, Heirloom & cherry], sweet corn, string beans, red beets, zucchini, bell peppers, cucumbers, carrots, onions, new potatoes, sweet potatoes & herbs); fruit (cantaloupe, peaches, watermelon); meats (grass-fed beef, pork, veal); pastured poultry; eggs; cheese; cheeseburger soup; chili soup; pizza kits; baked goods; kombucha; honey & maple syrup.  *Peaceful Springs Farm's products are now available here.
*Austin's Tea – returning September 2nd
*NEW* Fruit Veggie Juice
Cash; Venmo; ApplePay
Founded in 2020 by Felicia S, Fruit Veggie Juice is a black-owned fruit and vegetable juice catering company. An array of fresh fruits and vegetables are combined together to create tasteful juice drinks. Try their signature juice, Kickn' Kale, it's made using Kale, Orange, Apple, and Lemon. Want to elevate your energy? To aid in that, they offer both ginger and turmeric shots. Drink well friends!  Pre-order:  267-239-3969 by 8/17/23 for more information.
*Locust Ridge Honey and Produce
Instagram: @locustridgehoney
Cash; Venmo


A family-owned, small farm using old farming traditions. They will be bringing honey, garlic, shallots, cucumbers, okra and multiple types of peppers and herbs.
*NEW* Mike's Guac – returning August 26th
*Molto Bene Ravioli
Cash; Credit Cards
Founded by two friends with a love of food and doing their own thing, they make small batch ravioli with big-time flavor. Available at the market are handmade frozen ravioli, pasta sauces, pestos, and meatballs.
*NEW* Pickle Monster Hot Sauce – returning August 26th
*Slow Rise Bakery (at the Friends of Pretzel Park table)
Cash only
Bread: 
Sourdough, Miche, Garlic, Cheese, 7-Grain, Multigrain & Baguettes. 
Baked goods: 4-seed cookies, peanut butter cookies, granola & honey crisps.
*NEW* Succession Fermentory
Cash; Credit Cards
Succession Fermentory produces sour and farmhouse ales using locally grown and sourced ingredients. They will be bringing the following beers:
Sheaf & Shield IV, Rye Kellerbier (5.1%): served unclarified and naturally conditioned. Dry hopped with Triumph. Rustic maltiness with hints of straw, spice, and subtle citrus.
Kobalos (4.4%) – Session ale brewed with barley and wheat malts, fermented with a single strain of Brettanomyces reputed for its production of tropical fruit flavors and aromas. Dry-hopped with with Nelson Sauvin, which contributes a medley of crushed grape, tropical fruit, and citrus notes.
Picea (6.4%) – Farmhouse ale brewed with copious amounts of locally forage spruce tips, and dry-hopped with Centennial hops. Fermented with a strain of Kviek yeast first isolated from a farmhouse brewery in Western Norway. The yeast produces flavors of orange and citrus and the spruce tips produce resinous flavors.
Solar Corona (6.3%) – Sour IPA brewed with wheat, oat, and barley malts from Deer Creek Malt House. Dry-hopped with Ales for ALS hop blend from Yakima Chief Hops. Proceeds from the sale of this beer benefit ALS research at the ALS Therapy Development Institute.
Nebulae (4.2%) – Fruited kettle sour made with strawberries from Green Meadow farm and rhubarb grown in-house. 
*Working Class Coffee
Credit Cards; Cash
They will be bringing freshly-roasted bagged coffee by the pound and half pound. If you like a REAL dark roast The Guatemala Dark roast is for you.  They roast beans from the Huehuetenago region as fully as possible bringing out deep and robust flavor with maximum oil extraction. *Possible flavor profile: Raw honey and baking chocolate.
*You Need Dessert
Cash; Credit Cards; Venmo; PayPal
A small, majority women-owned baking company serving the Philadelphia metro area. They will be bringing the following: assorted sweet bread loaves, mini pies, fruit cobbler, pound cakes, and jumbo cookies.
*NEW* Gator Bites Pet Treats – returning August 26th
*Little Lions, A Cat Company
Cash; Cards; Venmo; CashApp


Martin makes premium raw cat food for Little Lions a Cat Company. Raw cat food is the best diet choice for cats for so many reasons. New products:  cat grass and chicken broth. Come stop by to pick up something for your cat or learn about cats!
*Pale40 Wax
Cash; Venmo
Pale40 Wax is back and will have its favorite and best selling hand crafted, small-batch, soy-based 4oz candles for Saturday's market.  Candles: $7/small; $12/large.
*Shay Lynn (formerly ShayBeads)
Credit Cards; Venmo; Cash


Shay and Luke will be bringing their signature Handcrafted Jewelry, dainty earrings, gold filled and sterling silver necklaces with semiprecious stones, and hand stamped necklaces as well as tie dyed sweatshirts, artwork on apparel and many other handcrafted pieces. 
*James Dobson Home and School Association
School Uniform Swap Shop at the market
Drop off your outgrown uniforms. Drop off athletic sneakers for recycling via "Got Sneakers?" fundraiser.  Shop to benefit the Earth and the school.
SPECIAL EDUCATION RELATED CARTOON IN HONOR OF DOBSON HSA AT THE MARKET!
++[Changes in vendors and/or products can occur]++
#farmersmarket #manayunk #produce #meats #eggs #cheese #fruit #kombucha #bread #cookies #snacks #bakedgoods #ravioli #sauce #pesto #meatballs #beer #juice #coffee #candles #jewelry #clothing #artwork #catfood   @ppfarmersmarket