THE PRETZEL PARK FARMERS MARKET
SATURDAY, NOVEMBER 13th
10:00am – 2:00pm
EDITOR'S NOTE: After weeks of militant protests against our weekly cartoons by witches, cows, chickens, dogs and some organization called "Bring Back The Bland Humor of 'Leave It To Beaver'" Friends of Pretzel Park exiled our cartoon editor to FDR Park in South Philly and now outsources our cartoon selection to the prestigious family friendly business "Evil Jill Cartoons Inc.". We think you'll notice the striking difference. Thank you.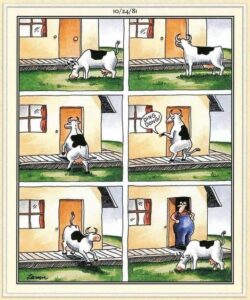 IF you are NOT vaccinated, you are required to wear a face covering at the market. If you are vaccinated, it is recommended that you wear a mask, but not required. STAY HOME if you feel sick or have been sick within the last 14 days.
HOW TO PLACE AN ORDER: use the link below the vendor's name if you are pre-ordering and note pre-order deadlines (pre-ordering is encouraged where available) **If someone else is picking up your orders, please let the vendors know the pickup person's full name.
Food Vendors:

*Walnut Run Farm -Veggies; fruits; meats (grass-fed beef, pork, veal); pastured poultry; eggs; cheese; pizza kits; baked goods; kombucha; honey; and maple syrup. Now accepting FMNP vouchers. https://walnutrun.grazecart.com/ Credit Cards [$10 minimum]; Cash
*Peaceful Springs Farm – all things made with goat milk. https://www.facebook.com/PeacefulSpringsFarm Credit Cards; Cash
*Cocky Gourmet Confections – "World's Best" Toffee and Brittle in over 15 delicious offerings.
Pre-order deadline: Thursday by 6:00PM of market week for Saturday delivery https://cgc-online-store.square.site/ Credit Cards; Cash
*Fifth of a Farm Creations — small batch jams, jellies, preserves, marmalades & chutneys.
www.fifthofafarm.com Credit Cards accepted.
*Five Saints Distilling – Premium Vodka, White Whiskey, Savory Tuscan Style Gin, Blood Orange Liqueur, Maple Bourbon Butter Pecan Flavored Rum, and Raspberry-Lavender Absinthe Americané. https://fivesaintsdistilling.com Credit Cards and exact Cash accepted
*Kouklet Brazilian Bakehouse – Cake Rolls, Empada (Eggs, Cheese and Shallots), Box of Brigadeiro, Vanilla Sonho, Dulce de Leche Sonho, and Pão de Queijo. www.kouklet.com Credit Cards; Venmo; Exact Cash Accepted
*Moishe's Pickles – New York Kosher pickles and sours: pineapple, mango, watermelon, beets, turnips, marinated mushrooms, olives, green tomatoes, green beans, new pickles, hot & spicy pickles, half sour pickles, full sour pickles, and more. Pickles on a stick: $3! Kossars' Bialys, Bagels and Pletzels. Pre-order deadline: Wednesday by 8AM
https://www.moishespickles.com Credit Cards; Cash; PayPal
*Mushroom and Company – unable to attend
*Slow Rise Baking Company (at the Friends of Pretzel Park table) – Breads and Baked goods. http://www.slowrisebakery.com Cash only
*Stone & Key Cellars – Wines and Hard Ciders. Pre-order deadline: Thursday at 5:00PM https://commerce.arryved.com/location/BbyVjZgj In the comments/car type you need to write "Pretzel Park pick up" Credit Cards; Cash
*Working Class Coffee – hot coffee; bagged coffee by the pound & half pound as well as W.C.C. travel tumblers and ceramic mugs. https://www.workingclass.coffee Credit Cards; Cash
Non-Food Vendors:

*Crazy Crochet Chix – handmade crochet items —fingerless gloves; character hats for all ages; doggie sweaters; doggie bag holders ;and toys for your dog. Special orders available. GET YOUR CHRISTMAS ORDERS IN EARLY
*Edna Rambo Pottery – fresh out of the kiln Ring Holders; brand new Mugs (all sizes/colors), including "GO BIRDS" to use while watching the EAGLES; Rice bowls/chopstick bowls; garlic pots; new coffee scoopers; and lots more. Pre-order deadline: Friday by 6:00PM On website choose "Store Pickup" and during checkout you'll be able to list pickup in Pretzel Park or order via email. https://ednarambopottery.square.site ednarambopottery@gmail.com Credit Cards; Cash
*Jacqueline Schneider Art – original paintings and canvas prints, as well as hand-beaded earrings, hand-knit scarves, and small-batch, all-natural soy wax candles. https://www.facebook.com/JacquelineSchneiderArt/ Cash; Credit Cards; Checks; Venmo
*Pale40 Wax – soy-based candles. $7 for 4oz.; $14 for 8oz. Fall scents: Pumpkin Supreme, Pumpkin Excellence, Fall Foliage, Apple Orchard, and White Birch Getaway. Pre-order deadline: Thursday by 8:00PM pale40wax@gmail.com (preorders & Mail Order available) Cash only.
*Ray's Reusables – array of bulk refills for your body care and cleaning needs, you can now bring your own container to the market to fill up on all of your home essentials including: laundry detergent, dish soap, hand soap, shampoo, conditioner, and more. In addition to her refill program Ray offers a selection of plastic free alternatives to single use and disposable products in your life. Pre-order deadline: Friday by 12Noon https://www.raysreusables.com For Preorders: in the note box on your cart screen please type "Pretzel Park" and the date of the market. At check out select pick up. Any orders not picked up the day of the market must be picked up at my studio address (the address shown at checkout). Credit Cards; Cash; Venmo
*ResiNature Designs – handcrafted resin art, crafts and jewelry. Instagram.com/ResiNature_Designs
Cash app; Venmo; PayPal; Zelle; and Cash
NEW —*SCB Naturals – vegan, organic, Eco friendly and sustainable skin care products, featuring the fall and holiday artisan soaps collection. Follow on Instagram for 5% off your entire purchase! www.SCBNaturals.com Credit Cards; Cash
*ShayBeads – unable to attend
*Swamp Goblin – handmade jewelry and unique journals https://www.etsy.com/shop/SwampGoblin Credit Cards; Cash
*Visible Art – decorative and functional resin art, including charcuterie boards, serving trays, wall art, and jewelry. Instagram.com/Vizible.Art Cash; Venmo